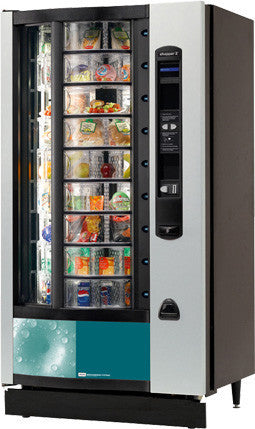 Crane Shopper 2
Prices From Sale price Price £0.00 Regular price a week
Food Merchandiser
The Shopper 2 has been designed to meet the varying needs of a 24 hour refreshment service. Products are stocked into individual compartments on 9 rotating shelves. Trays can be easily configured to hold a selection of plated main meals to small snack items, maximising the available space and offering customers a wide choice of products.
The Shopper 2 also features solutions to help reduce your carbon footprint! The latest energy saving software reduces energy consumption - in energy saving mode the Shopper 2 uses 13% less energy than in idle mode. Vend door heaters can also be switched off when ambient humidity and temperature conditions permit.
---
Why choose Shopper 2?
9 levels each with 127 mm (5") tall vend doors allowing for optimum product visibility and easy access for users
Powered vend doors on all levels allow easy, one handed operation
Two way drum rotation speeds selection time and increases sales
Foam-in-place cabinet and door increases overall operating efficiency and eliminates sealing, condensation and temperature variation issues
New refrigeration design and improved airflow provides the most even temperature distribution in the industry
Shopper 2 machines can help provide a healthy vending option for schools, sports centres, canteens etc
Bespoke graphics available to special order
Individual selection pricing increases flexibility
---
Contact us

for more information on this product!