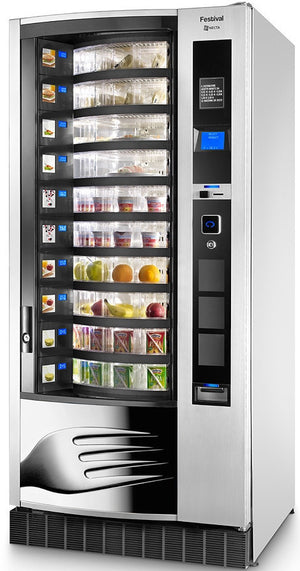 N&W Festival
Prices From Sale price Price £0.00 Regular price a week
Festival, fresh food feast
Festival is the smart solution for places needing to offer catering services 24/7. Not just a vending machine but a true automatic canteen. The extreme flexibility of configuration allows the user to choose between snacks, drinks, fresh dishes, fruit and yoghurt. The enhanced electronics of Festival offers an advanced machine and products management. Festival achieves the energy rating of A+ (EVA EMP 3.0 protocol) thanks to the excellent performances in energy saving.
24/7 complete catering service
Complete product offer: from non-alimentary goods to fresh food
Possibility to set the layout of each drum according to the location's need
Products dispensed in a FIFO shopper mode
Possibility to stratify two temperatures inside the cell
Design and user interface
New aesthetics with L.E.D. lighting of the front panel and of the internal part of the cell
System of blinking L.E.D. which guides the user through the selection, payment and collection processes
Elegant black and silver aesthetics of the user interface area
Large LCD display 128x64 pixel
New backlit FIFO shopper button
Electronics and Energy consumption
16 bit electronics with 4 MB flash memory
Possibility to manage up to 4 prices inside the machine and up to 4 different price per drum
Advanced management of the expiry date of fresh products
Enhanced energy saving mode granting a lower energy consumption (class A+ according EVA EMP 3.0)
---
Contact us

for more information on this product!